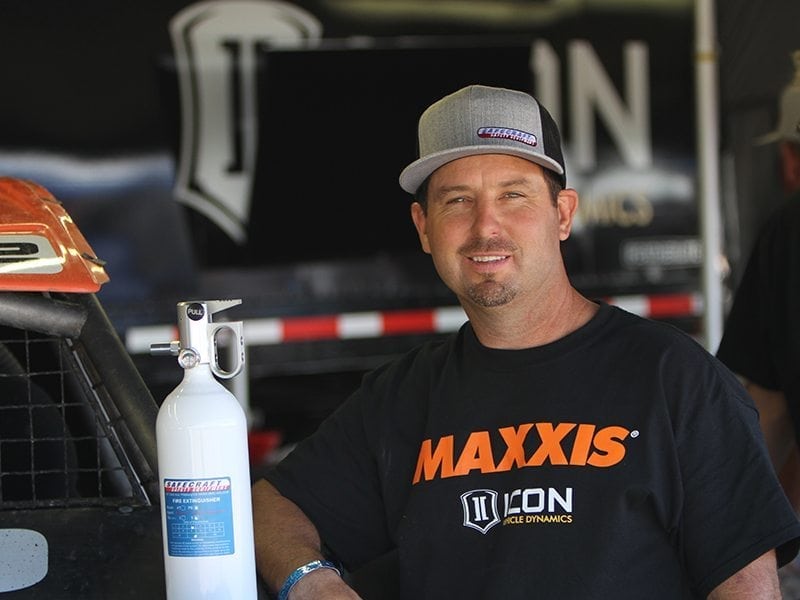 Career Highlights
7 Supercross Championships – 1993-1996; 1998; 1999; 2000
2 125 Western Region Supercross Championships – 1991; 1992
1 250 Outdoor National Championship – 1995
FIM World Championships
2008 – Silver Medal – Moto X Racing
2006 – Bronze – Step Up
2005 – Bronze – Step Up
2005 – Silver – Supermoto
2004 – Gold – Step Up
OVERALL X GAMES MEDALS – 5
AMA MOTORCYCLE HALL OF FAME – 2003
BMX HALL OF FAME – 2010
SIGNATURE MOVE – Nac-nac
SPONSORS – Monster Energy Drink; American Honda; Parts Unlimited; Thor; Spy Optics; DC Shoes; Troy Lee Designs; Kicker Audio; Dunlop Tires; Coyne Powersports Group; Motorcycle Mechanics Institute.
---
Jeremy McGrath
Short Course Off Road
With seven Supercross titles – a feat no other racer in Supercross history has even come close to, two additional 125 Western Region Supercross Championships, one 250 Outdoor National Championship and two FIM World Supercross Championships, most within this spectacular sport feel Jeremy McGrath helped catapult the sport of Supercross into the mainstream.
Truly the most successful rider in AMA Supercross history, with a record 72 250cc Supercross wins, the dirt bike racing icon retired from the sport he helped shape in 2003, only to return in the 2005 season to race select events throughout the 16 week pro Supercross season.
Post Supercross, Jeremy entered the 2004, 2005, 2006, 2007, 2008 and 2009 Summer X-Games competing in Step-Up, SuperMoto and Super X garnering Gold, Bronze and Silver medals; he created and produced the Jeremy McGrath Invitational, a never-before-seen, two-day Supercross event featuring a $500,000 purse; penned a best-selling autobiography, WIDE OPEN – with ESPN Mag writer Chris Palmer, culminating with a stint on the New York Times Best Seller List; podium finishes racing the Championship Off Road Racing (CORR) series; became a co-owner of Pole Position Raceway, southern California's largest indoor public carting facility and became the proprietor of So Cal's Thing Valley Ranch.
In 2007, post-retirement brought about yet another exciting race challenge – Late Model Stock Car racing as part of Dale Earnhardt, JR's, prestigious JR Motorsports Team. Jeremy raced 5 stops of the 2007 series.
In 2008, another 4-wheel opportunity presented itself – a factory ride with one of Championship Off Road Racing's (CORR) premiere teams, Baldwin Racing. Jeremy raced all eight 2-day stops of the 16 race series, April through November. In 2009, Jeremy raced the entire TORC series as part of the Greaves Motorsports team and in 2010 is back as part of the Greaves Motorsports team running the vastly competitive Pro 2 class.
Not only a world-class athlete, but also an exceptional entrepreneur, Jeremy was the first pro racer to form and operate his own Supercross race team. The team's 2001 inaugural race season culminated with a title sponsor deal with MAZDA and in 2002 BUD LIGHT/ANHEUSER-BUSCH signed on as title sponsor for McGrath's endeavor.
Jeremy is also the first Supercross racer to have his own toy line, Jeremy's affiliation with MATTEL included the popular X-TREME CYCLE, a radio controlled motorcycle complete with a McGrath racing figure, X-TREME MOTOCROSS, with replica motorcycles and action figures featuring non-stop race action on a simulated motocross track as well as a Jeremy McGrath line of HOT WHEELS. He is also the first Supercross racer to have his own line of signature shoes – the nac-nac from No Fear.
Within the television and film world, the popular WB kids show MAX STEEL, created an animated super hero version of the Supercross Champ himself for which Jeremy provided all of the voice-over work. He also had a cameo role, opposite Cameron Diaz in the Sony film, CHARLIE'S ANGELS: FULL THROTTLE. Jeremy has his own production company, Clutch Films, which has produced motocross industry standouts STEEL ROOTS I, II, SR3, NEW BLOOD, RELISH and TECHNIQUES OF A CHAMPION.