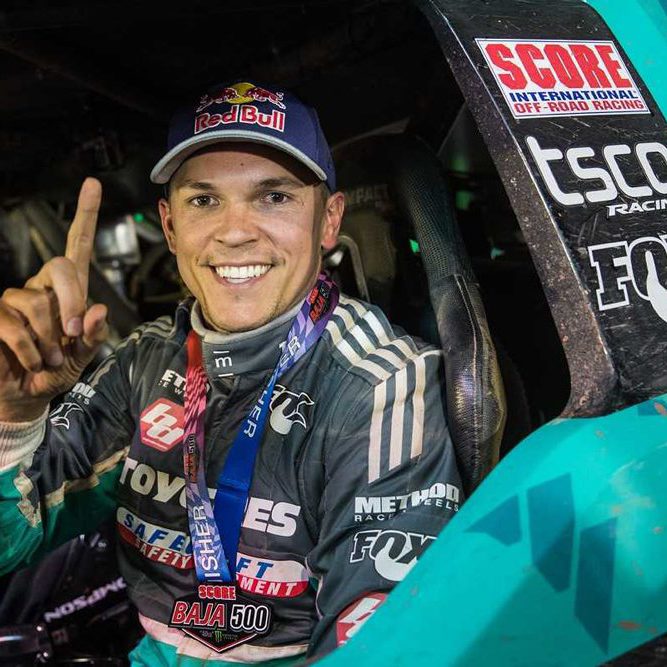 ---
Andy McMillin
Desert Off Road
Andy McMillin is a 29 year-old third generation off-road prodigy.  Andy's passion for off-road racing began at the age of 2 when he started going to Baja to "pre-run" the race courses with his dad in a modified car seat.  From the time he was 10 years old, his family would take weekend trips to the sand dunes in Imperial County where Andy's father taught him to drive a clutch.  Once Andy got the hang of it, he practiced and honed his driving skills all day and night pretending he was Ivan Stewart or Larry Ragland driving through Baja.
Andy's racing career began at the age of 14 driving Class 1 Unlimited Buggies in the FUD series in Plaster City, CA.  Andy drove his first SCORE Baja race in 2003, where he and his family were featured in the 'Dust to Glory' film.  Andy progressed to the premier Trophy Truck class of desert racing in 2006 and became the youngest driver to win the Baja 1000 Overall title.  He is also tied for most Baja 1000 Overall titles in a four-wheel vehicle in the history of the sport with five at the age of 29 (2006, 2009, 2011, 2014, 2015).
Andy is one of the few drivers in the sport who has won Baja's coveted Triple Crown Overall title in a four-wheel vehicle: the San Felipe 250 (in his Class 1 car), the Baja 500 and the Baja 1000. He has also had success in the United States races, having won the Parker 425, Nevada 1000, Vegas to Reno twice and is one of few who have won the infamous Mint 400 Overall twice.
Andy has an unheard of winning percentage of 35% and podium percentage of 54%, proving his place among one the greatest drivers the sport has ever seen.