Living Legend and Safecraft Driver, Larry Roeseler, Steps onto the UTV Scene
Safecraft
Safecraft driver Larry Roeseler is a legend in off-road motorcycle racing starting with his early years racing a Harley-Davidson 100cc two-stroke in the desert to later rides with Husqvarna, Yamaha and Team Green Kawasaki where he won both the Baja 500 and 1000, multiple ISDE medals and finished as top American in the ISDE. He even raced the ISDE (International Six-Day Enduro) on an 80cc motorcycle. LR, as he is known, also has class wins at Vegas to Reno on a motorcycle and in a truck. After his motorcycle career he switched to trucks and is extremely well-regarded as a top four-wheel racer. After many thousands of miles in Kawasaki Arctic Cat and now Polaris UTVs, VtoR was LR's first real race in a UTV.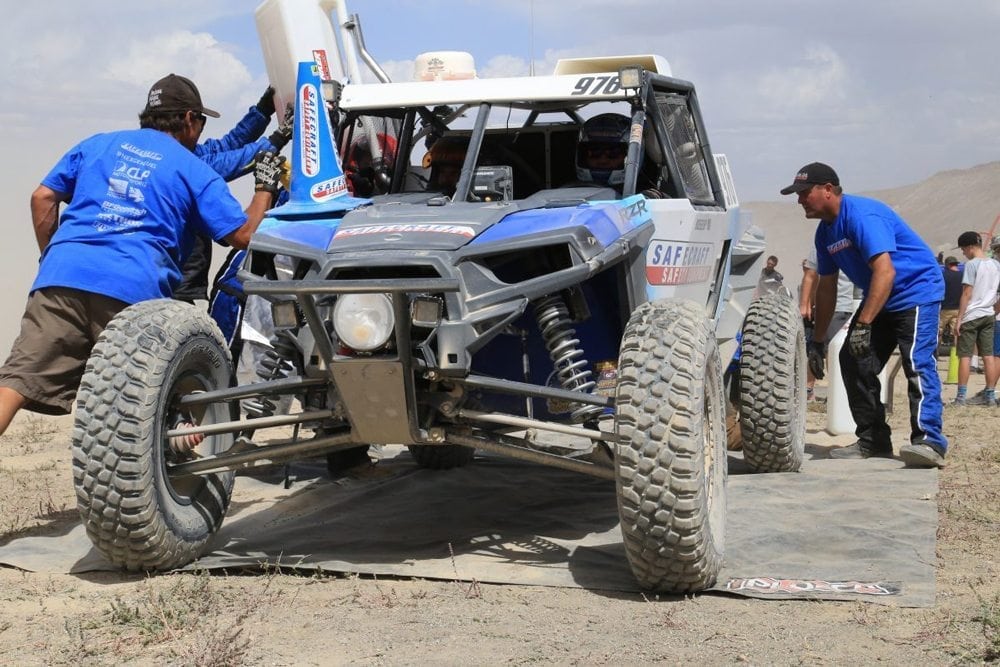 "This car was built by Holz Racing Products (HRP), and we took delivery of it a little over two weeks prior to the race. It is based off of a production Polaris RZR Turbo 4 chassis. Per class rules, the car retains a portion of the factory frame rails and all suspension mounting points are in the factory locations, however they have been rebuilt and strengthened. The main chassis structure on top of the factory frame rails is all custom fabricated per HRP spec to be lighter, stronger, safer and better balanced than a factory car." – Larry Roeseler
The front suspension on this car is specific to HRP, and is unlike any other manufacturer. It is unique in that HRP has chosen to use a wider J-arm set up and relocate the lower shock mount to the lower control arm as well as employing a custom front-steer steering rack. These changes alter both the handling characteristics of the car and improve steering reliability.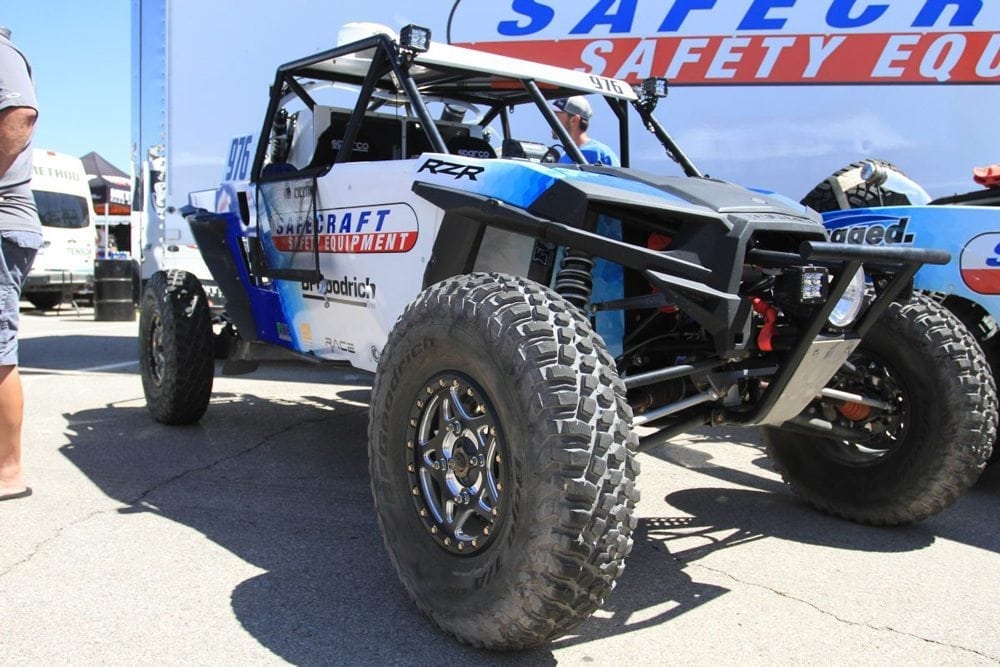 Wheels and tires for this race were prototype 32-inch BF Goodrich Baja T/A KR2 UTV tires mounted on forged Walker Evans bead locks. Clutching is OEM Polaris with HRP clutch weights. Per class rules this car uses a sealed 100-percent stock Polaris engine and turbo. The intake and charge tubes have been changed for reliability in a long distance desert racing environment.
Belt issues are a big factor when it comes to racing a belt-driven CVT vehicle. This car features a large roof-mounted scoop to provide constant air flow to the clutches/belt and a modified clutch cover to help evacuate hot air. Driver input and understanding of the CVT system as well as a properly weighted clutch also go a long way in terms of belt life.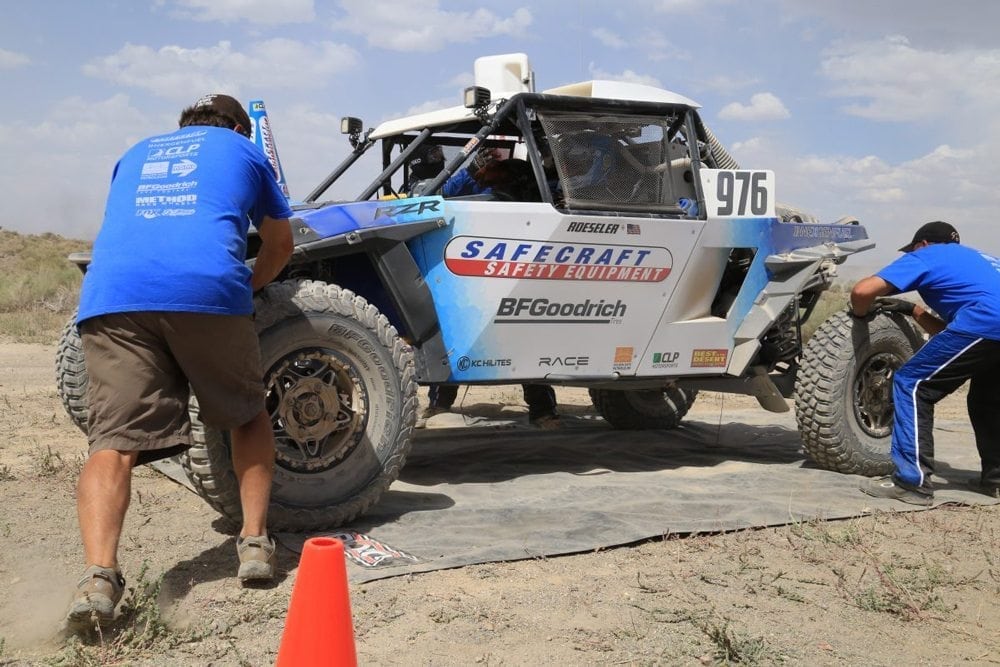 My personal post-race conclusion is that the clutch intake needs a better filtration system to avoid foreign particles/objects from being directed into the clutches/belt, and the car needs to be able to properly carry more spare parts for long distance races.
Some pre-race modifications and fabrication were done in house, but the majority of the car was built by HRP. The Safecraft Trophy Truck, Spec Trophy Truck, Turbo RZR and fleet of support vehicles are maintained and prepared by YT Motorsports.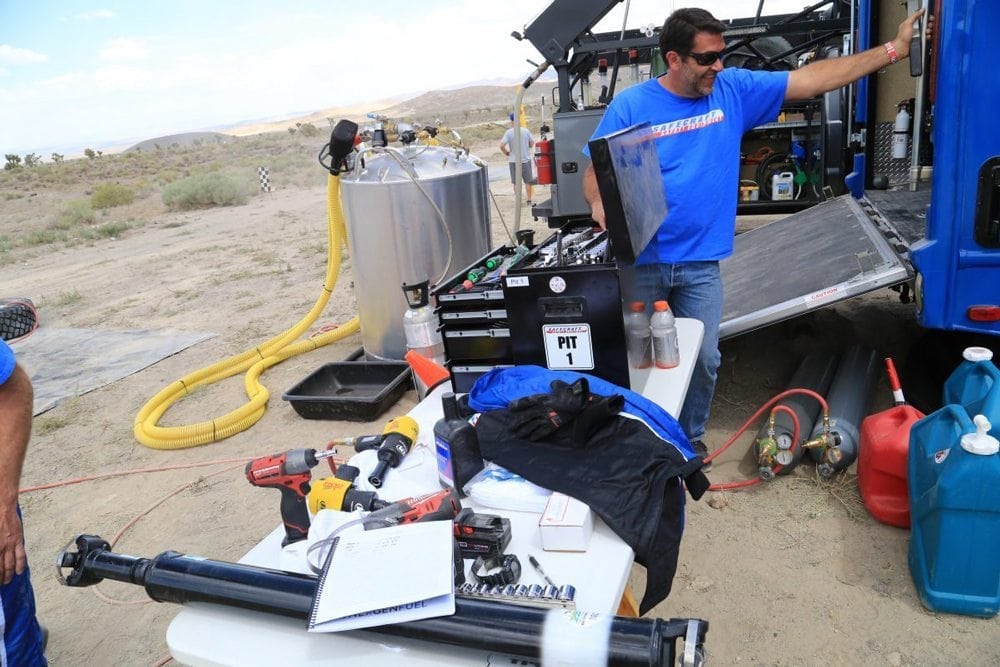 Not All Nuts and Bolts
The most important race preparations, other than the race cars themselves, has to be working out all the logistics. It takes a big effort and a lot of knowledge to make sure everyone on the team is where they need to be when they need to be there, and that everyone has exactly what they need in order to properly do their job. Pit crew preparations include organizing, sorting and loading all the support equipment and vehicles that it takes to make a race happen.
The major safety precautions taken for this race included ensuring both race vehicles were properly equipped with Safecraft fire suppression systems and extinguishers and equipping all support vehicles and pit crew members with the proper fire safety equipment, first aid supplies and knowledge.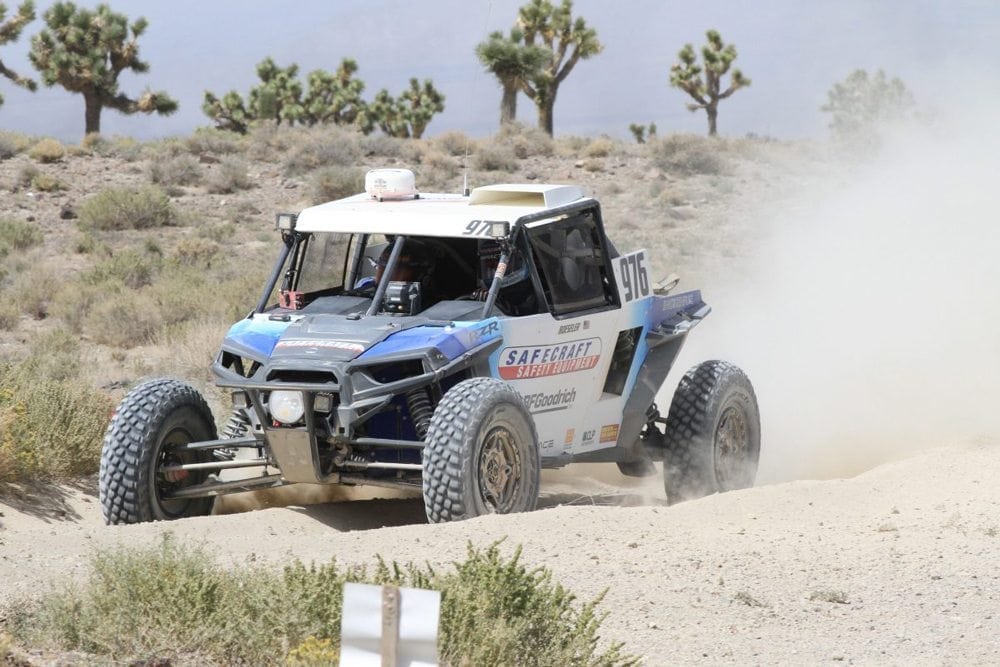 Personal Preference
"V2R is one of my favorite races. It's tough and long: a true desert race. I've won it on a motorcycle and also a truck in the past. Racing a UTV this year was my boss's idea. Safecraft is known mostly for its fire suppression systems. This product is relatively new to the UTV world, so for us it's another way to expose Safecraft. For me it is another great challenge. I have thousands of miles in UTVs, but mostly just fun trail rides. Being a huge fan of them, I agreed to give it a shot." – Larry Roeseler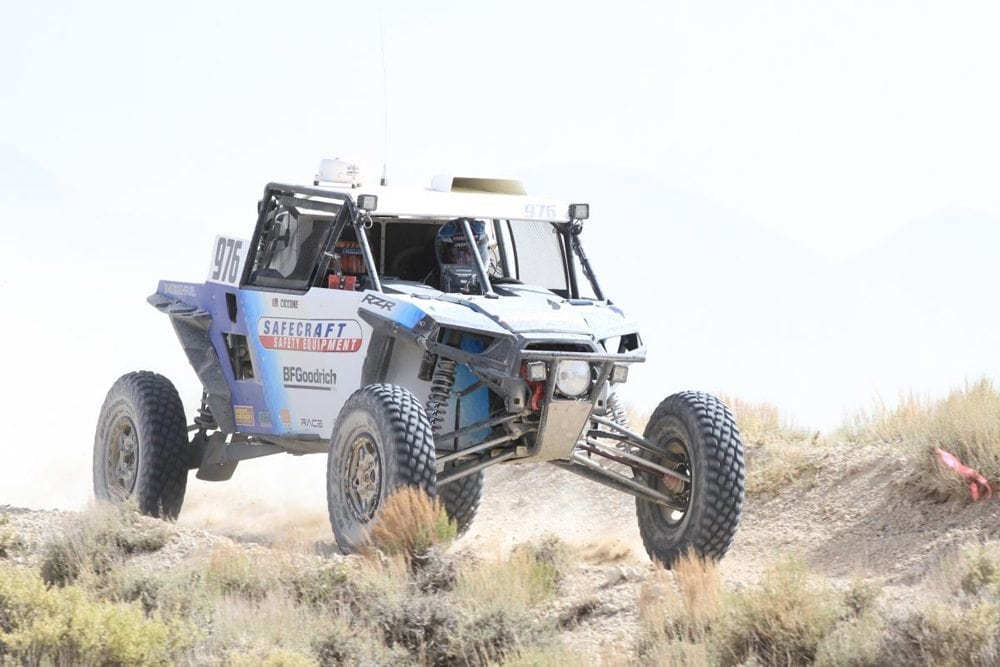 Of course the speeds are much different, but actually it is all really relative to size. You must still pick good lines, read the terrain, deal with rocks, bumps and turns. It's just as fun.
I think coming from the motorcycle world has helped me the most. Jumping into different cars and adjusting only takes a little time, then you get to reading the terrain and building corner speed. Go fast and smooth and have some fun.
It's hard to practice for desert racing. It is too expensive to have a second car just for practicing (unlike motorcycle racing). We did get out a few days before, checked things out, got a feel for the car. I've found out in racing trucks that you learn the most during the race and take that info back to the shop, make the changes and go test right after the race, then tear it all down, re-prep and get ready for the next race and repeat.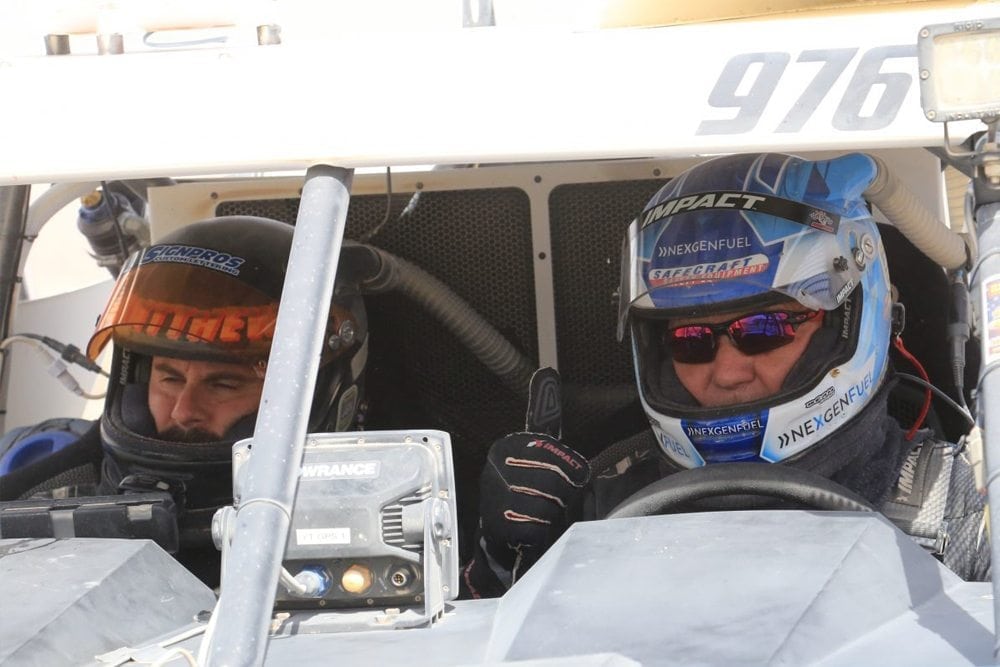 Live and Learn
"This year V2R beat us, sorry to say. But for sure we learned a lot. Our Polaris worked really well. Early on we had a few small issues, keeping air in a tire (I hit a huge rock in the dust) and rear axle later in the day, but ultimately the transmission is what stopped us from finishing. Of course, we are a little disappointed, but off-road racing can be very humbling. I can't wait to saddle up again to give it another try. First place of course." – Larry Roeseler